What Are Custom Magnetics and When Are They Used?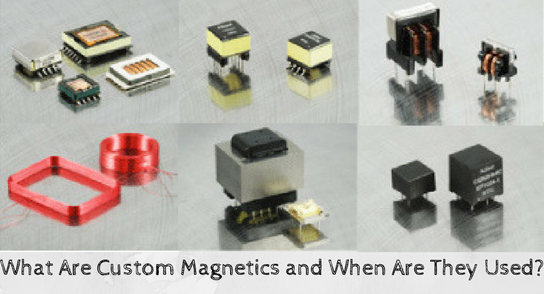 Confusion over what custom magnetics are and what they do is not rare in the engineering and manufacturing community. Designers should not assume that every vendor selling these diverse devices knows what they are talking about, which is why designers should approach the topic carefully.
Here are details on what custom magnetics are and what they do:
Understanding Custom Magnetics Custom magnetic devices can be transformers, inductors or chokes that are designed to meet a specific customer's needs. It is typically based on a soft magnetic material at its core with copper wire coiled around it. But not every such device has a magnetic core. In that case, the device is known as an "air core," which is found in high frequency equipment, such as wireless chargers. Sizes range from smaller than your fingernail to as large as office furniture.
As a complete filter, the device can comprise various components such as inductors, capacitors, resistors and connectors. Other features may include cooling units, mounting equipment and configuration controls for termination.
What OEMs Use Custom Magnetics For Engineers who design circuits typically strive for the highest performance at the lowest cost. That's why they study available data sheets that provide statistics on electrical performance and dimensions. When engineers are unable to locate devices they need from manufacturer's catalogs, suppliers or other usual sources, they often turn to magnetics manufacturers who build custom equipment. Custom designs usually cost more than the devices sold by suppliers due to manual labor, development and NRE fees.
Selection Factors to Consider
Quantity of units to be manufactured
Finding a custom magnetics manufacturer within close proximity
Understanding of the latest technology
Certified vendors who specialize in your specific market segment
Reputation and ability to make and test high performance equipment
OEMs and global contract manufacturers that turn to custom magnetics manufacturers need to thoroughly research all the various design factors first. Volume should be a top concern since it affects pricing. Other concerns should be the manufacturer's location to keep shipping costs as low as possible, along with expertise and reliability.