7 Safety Tips to Consider When Working with Transformers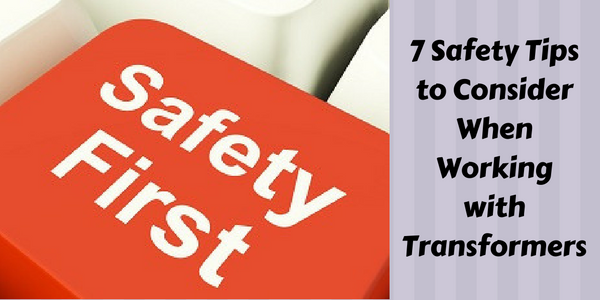 Equipment designed for high voltage capacity, such as transformers, can create hazards to human health, which is why it's important to prioritize safety measures with its operation or maintenance.
Avoiding safety precautions can lead to equipment failure and injuries, which can shine a negative light on your company. Keeping the design of your transformer in mind along with proper installation will help maintain a safe environment for all components of the equipment, regardless of the manufacturer or system type.
When working on transformers, you must pay attention to UL, CUL, VDE, CE standards and ISO 9001 requirements. If your transformer begins to function in a manner that you don't understand, remove it from the system so that it can be analyzed for maintenance.
Key Safety Tips for Transformers
Inspect your transformer thoroughly to prevent or minimize breakdowns. Before installation, monitor your transformer by checking for any burnt odor, damaged power cords and connectors or any parts that are improperly installed.

Keep the power off when working on the transformer. Make sure there is zero electrical leakage or continuity between the current source and the system.

Use protective equipment and pay close attention to specific ratings for the transformer's voltage output. Keep over current protection of conductors and circuits set to the manufacturer's standards.

Learn the maximum voltage requirements of your transformer. Be careful of system overload from a single transformer, with the understanding that multiple transformers help balance the impedance of each load.

Keep spare nuts, bolts and other objects away from your work, so that they don't touch or fall into the transformer.

Be certain that your transformer is grounded, which will prevent static electricity and protect the coils from contacting the enclosure or core.

Always keep your transformer and all of its components dry and free from any kind of moisture or water. To protect unskilled onlookers, set up caution signs that warn people to keep away from danger.
Related Post: What Are the Safety Requirements of a Transformer?